Industry and B2B solutions ​
At EtOH Spirts we specialise in the production of innovative accelerated spirits with creative design and an interesting story. 
However, EtOH Spirits' main focus is on providing B2B solutions for companies looking to age their own spirits, wine, or beer. Our cutting-edge reactors can simulate the aging process of traditional wooden barrels, allowing companies to create matured products in a fraction of the time it would take with conventional methods. This approach not only saves time but also reduces costs associated with the storage and maintenance of wooden barrels.
Reactors can be used for a wide range of products, including whisky, rum, tequila, and even wine, beer and non-alcoholic drinks.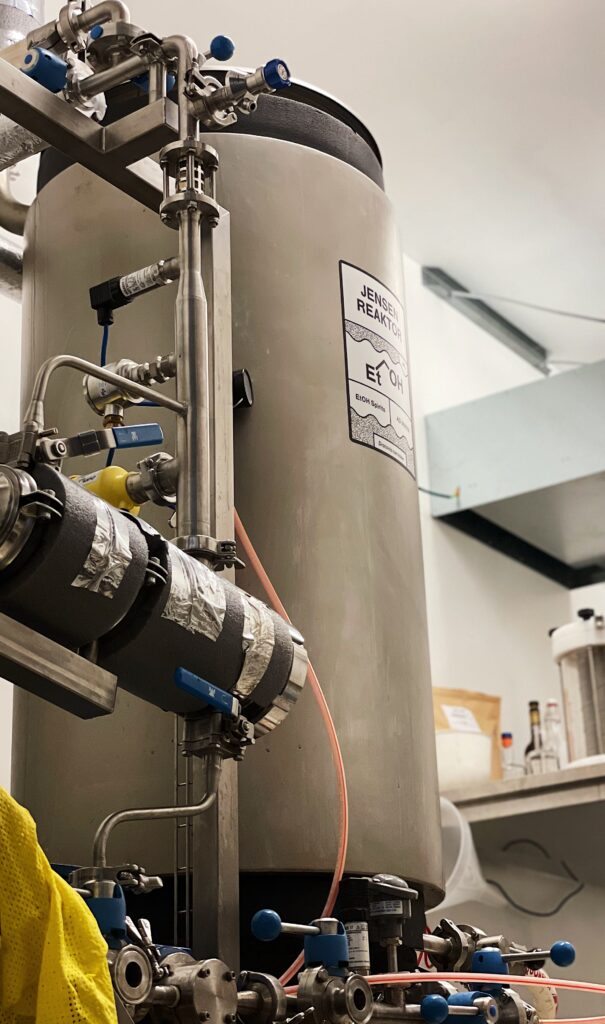 Our reactors are fully customizable, and we work closely with our clients to provide tailored solutions that meet specific needs. We offer a range of sizes from small-scale options suitable for craft distilleries (starting from 200L) to large-scale solutions for industrial producers.  
Additionally, the reactor is capable of balanced and quick flavour infusion, which means within a couple of hours it's possible to infuse the neutral spirit with juniper berries and produce gin.
This type of accelerated aging can dramatically reduce the cost associated with barrel sourcing. On average wood from one barrel can be used to age more than 8000L of "cask strength" spirit. 
0% of an angle share, reduction in warehouse space and maintenance leads to a minimum reduction of carbon dioxide (CO2) emissions by 30%.
Custom-made software controls the entire process remotely, enabling production and management to be monitored at all times.
Our customers also have access to our research and recipes, giving them a head start in producing top-quality aged spirits.
Our customers are provided with support and after-sales service in order to ensure continuous and undisturbed production. 
We adhere to strict quality control measures to ensure that our products meet the highest standards. Depending on the local law, reactors can be built according to ATEX Regulations.
The reactor has built-in several safety features including pressure release and peak temperature control.    
Would you like to read more about the technology?
Would you like to produce a trial batch in one of our facilities?
Accelerated aging trial batch or a regular collaboration can be currently performed at 2 locations:
Copenhagen, Denmark
Katowice, Poland (onspirit.pl facilities)
If you would like to know more, please contact us with information about your location, production needs and a timeline.
Contact email: aleksander@etoh.dk